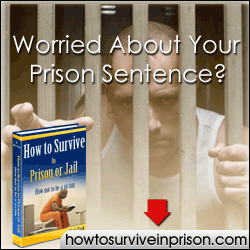 Truth be told, knowing how to survive in a Nevada Department of Correction facility is not that complex. There are productive activities that you can choose to do to survive. You do not have to join the brawl, do drugs and act as if you are the king.
You can survive in prison without doing anything illegal. There are other methods that you can choose to follow where you do not have to get your hands dirty or do things that can harm you even more. Written below are some of the things that you can do to have a productive prison experience.
Some prisoners see their families as the center of their lives and seeing them go on with their lives may lead to feelings of worthlessness. You should make sure that you are still part of their lives. You can ask your family to update you with their milestones. Ask them to communicate with you constantly. You can do this by exchanging greeting cards, asking them to visit you at the correction facility from time to time, or talking with them on the phone. Doing this can help retain your state of mind.
The number of minutes that is allowed for a prisoner to talk on the phone varies from one Correction facility to another. If you are in the Nevada Correction Facility, you are allowed up to 15 minutes of phone time per day. Of course, there are restrictions in place. You are not allowed to receive phone calls and you can only make outgoing calls. Remember that calls to your friends and families are monitored, but conversations with your legal councils or lawyers are not monitored.
You can make outgoing calls, provided that the recipient accepts the call and agrees to pay for all the charges. You can also use phone cards. The correction provides you with phone cards that you can top up. Your family can also top up these cards from the outside. Don't forget that making conference calls or three-way calling is not allowed. When making calls, blocking the dial pad is highly recommended since there are inmates who like to play pranks and call your loved ones.
Another simple tip on how to survive in a Nevada Department of Correction facility is to respect others. It is vital to respect the opinions and beliefs of other prisoners. For some, staring or glaring is a sign of disrespect. There are others who get pissed off when you stare at them, especially if you are still new in facility. This can start a fight. Another way to show respect is to be courteous with the guards. Showing disrespect can worsen your predicament.
Shutting your mouth is the best thing to do. Avoid spreading rumors and do not talk bad things about your guards or inmates. Do not ever brag about your offense. It would be best to keep it between you and your legal representative. Refrain from doing side comments or jokes, especially if you are not close or if you are new to the facility. There are people who do not like to be joked at and they find it offensive. This can start conflicts and misunderstanding. You may end up getting a black eye or more serious injuries.
You can avoid conflicts by concentrating and preparing yourself for the outside world by enrolling in their programs. The Nevada Corrections offers academic programs. These programs can help you improve yourself and prepare you for employment once you are released. These learning programs can also help lower your chances of being incarcerated in the future.
The programs that are offered in prison are based on your prisoner status, disciplinary records and educational attainment. These programs are carefully designed to meet your needs. However, not all programs inside the facilities are free of charge. There are programs that require you to pay a fee for your learning. You can ask your family to pay for the corresponding fees by cash or money order.
Some prisoners chose to dwell on their misery and they grieve on their fate. This attitude will only make things worse. You should always have a positive outlook. This can greatly help your survival in prison. Instead of consuming all your energy by getting depressed and feeling sorry, you should find things that you can be grateful for. Consider your imprisonment as a challenge to make you a better person.
If you are not into studying, there are other things that can keep you occupied. You can concentrate on improving your health. The correction has a gym, which you can use to stay in good shape. Instead of keeping active with illegal things, you can vent out your extra energy by lifting weights and doing more cardio exercises. Your family will not be too happy if you get yourself involved with illegal activities. Show them that you are not going to do anything that can harm others and yourself. You can put their worries away by staying healthy and living a more proactive lifestyle.
Always keep yourself occupied. Time seems longer if you are not doing anything. Instead of staying in your cell the whole day, you can join a sport, play a harmless card game or join a club, like a walking club. Usually, staying idle can result to trouble and participating in productive activities can take your mind off from feeling blue and from the situation. These activities give out a motivating and optimistic feeling. You won't feel that you are caged up and you get to live there with a purpose.
Now that you've learned how to survive in a Nevada Department of Correction facility, you no longer have to worry too much. The above tips focus more on self-growth. You have other things to do instead of doing illegal activities inside the correction. You can avoid fights and conflicts. By following these tips, you will be able to develop your overall well-being and you can prepare yourself to face the real world.