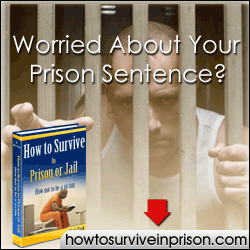 A prisoner needs money to survive in prison, but in New York Department of Correction, the inmate is forbidden to possess money. Possessing cash is regarded as contraband. A visitor who gives cash to an inmate will most likely be arrested. Inform your family members that the only way to send money is either by phone, kiosk, internet, or by directly going to the cashier's office. You can also visit offices with participating money transfer agents.
For a prisoner to survive, he needs some forms of distraction to keep his mind off the situation. New York offers an Incentive Wage Program specifically designed to help prisoners earn while they are incarcerated. Being employed inside prison does not only help the inmate earn or survive; it also allows him to save money. He can use the money that he saved while in prison when he gets out and starts a new life. To keep the job, he needs to make sure that he does his job well.
Here are more tips on how to survive in a New York Department of Correction facility:
•Participate in educational programs to enhance or discover new skills. This is especially helpful when you are inside prison. It helps you improve some of the skills you already have, or discover skills you do not yet know you possess. In New York, they offer a range of training programs that the inmate can take advantage of. Being in prison does not mean that life is over. Prisoners can actually learn something there. The training programs can also be used when they finally get out of prison.
•Maintain communication with family members and friends. Keeping in touch with family members can help the prisoner survive life while being incarcerated. Although it may take years for him to get out of jail, at least he has a family who still look out for him. Telephones and emails are available for the inmates as forms of communication. Family members are also allowed to write to a prisoner and even send a package. Ask your relatives to send you reading materials to keep your brain active. To send a package, the family member needs to have the prisoner's complete name, book and case number, and the name and address of the facility where the prisoner is located.
•Maintain a positive and satisfactory attitude inside prison. This will allow you to acquire a Certificate of Good Conduct or Certificate of Relief. If you have a criminal record, this certificate will help you reduce difficulties in finding employment or housing. You tend to stay out of trouble when you know that there is something to look forward to when you get out of prison. To get a Certificate of Conduct, you need to apply in person from Mondays to Fridays between 9am and 3pm. You will be asked to pay $50 money order or check payable to the New York City Police Department.
•Maximize Visits. When visiting inmates, an adult needs to present a valid identification card. Children under the age of 16 should be accompanied by an adult. Visiting a prisoner also helps. It is important that he sees someone in person and not just talk to them over the phone. Physical presence is among the most important aspects when it comes to knowing how to survive in a New York Department of Correction facility.
•Keep a journal. In New York, prisoners are allowed to receive pencils, composition books, writing pads, charcoal sketch pencils, and a ruler. Prisoners can still exercise their creativity by writing and sketching. This is a great way to move on with life. An inmate may want to keep a journal about his daily life in prison and write about how he survived it. When it's written well, he can choose to publish what he wrote so he can send a message to the public that it is not easy to live inside a locked cell.
•Keep a positive attitude. It is normal for a prisoner to feel hopeless while in prison, but he can't keep that attitude if he wants to survive. Being optimistic at all times is a must, and it keeps your mental health in check. Good things happen to optimistic people.
•The New York Department of Correction also has Jail Release Services. They help those newly released prisoners get a job or a place to live. Knowing that somehow, you will get help as soon as you get out of prison will motivate you to do well inside and get an early parole.
•Respect other prisoners. Live by the golden rule especially when you are inside prison. You should avoid ugly confrontations and bad language. That's not going to help you. Try not to fight when provoked, or if you can still help it. Fighting in prison may land you in solitary confinement. That place is not a pretty sight; you may lose your mind there. People in solitary confinement are likely to have mental disorders.
It will be difficult to survive life in prison if you are not mentally healthy, so try not to get yourself in trouble. This is important if you are inside prison. Committing another crime will not help you at all. You may stay incarcerated for a long time. Be good and it will pay off. Who knows, you may get an early parole. Or you may be allowed a bail.
•Eat healthy and exercise regularly. You will be staying in prison for a while. If you are not working, exercise. Staying healthy physically and mentally will help you survive.
•Get busy. Instead of staying in your cell during your free time, participate in daily activities as well. Make sure that the activities are mentally stimulating. That way, you are exercising your brain.
Surviving life in prison is a struggle for some prisoners, but if one knows how to maximize the resources available to him, he can definitely understand how to survive in a New York Department of Correction facility.