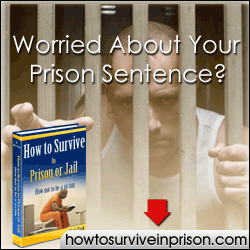 Being imprisoned is one of the most difficult experiences a person can have in his lifetime. Once convicted, you would need to stay behind bars for a specific period of time, depending on the kind of offense you made.
How much more difficult would it be to be imprisoned in France? The big, lone question here is, "How to survive prison in France and how do their penal system work?" In France, it is far more difficult as it follows a more austere penal system and reportedly "inhumane and degrading treatment" to inmates. French correctional services are under the Ministry of Justice. French prisons have various types depending on offenses made.
Here is the list of answers for the question "How to survive prison in France and how do their penal system work?"
1. Short-stay Prison – This is where defendants waiting for their trials and also prisoners condemned to a sentence of less than two years stay.
2. Detention Center – These are for people with a desire for social reintegration.
3. Central Prison – This is where most dangerous people stay. It also has a more severe detention system.
4. Penitentiary Centers – These are made up of differentiated neighborhoods with lesser severe detention systems.
5. Semi-custodial Center – This is where people waiting for adjustments in their sentences stay.
6. Juvenile Center – This is where prisoners below the adult age stay. Each juvenile center only houses 60 inmates to promote better education and social inclusion.
7. National Public Health Center of Fresnes – This is for non-psychiatric inmates' hospitalization.
During the years, French prisons have been experiencing various major problems such as overcrowding, prevalence of HIV/AIDS, and maltreatment of inmates. In this case, how can you possibly survive this kind of situation? Here are some tips that might help you survive being imprisoned in France.
First, you need to be familiar with the French penal system. This will help you know what kind of prison you would stay in, how long your case would be heard, your rights, and the process that you need to go through. It has been found out just recently that short-stay prison cells are catering to more prisoners than they are originally intended to house. Thus, overcrowding is actually a real problem with such types of prisons as compared to penitentiary centers. This is due to the fact that the management of these penitentiary centers rigorously revere the Numerus Clausus or rule of individual cells.
Second, you need to hire a good lawyer that has immense knowledge, reputable background, and years of experience. Find also a good lawyer that would save you and expedite your case. You will definitely have a hard time if you would be kept in short-stay prisons while awaiting trial, considering the circumstances of the majority of these types of prisons. The longer that you will have to stay in this type of prison, the more that you will be subjected to overcrowding, illnesses, and other circumstances that usually impact congested prison cells.
Third, you need to be in good physical and mental shape when you get detained. Knowing that situations are deteriorating in most French prisons, you need to exercise and also have a good mindset to avoid getting easily sick or losing your mind during your stay. Mental illness is prevalent amongst French prisons. Many contributory factors lead to such conditions. These factors, however, can be avoided if you continually work on your stamina, physical strength, and mental alertness by engaging in appropriate exercises and meditation.
Fourth, you need to summon your relatives and friends for moral and financial support. They can send you food and other basic necessities to alleviate your living condition in prison. Most French prisons have their own canteen where prisoners can buy cigarettes, food, clothing, and other necessities. However, it has been discovered that these canteens serve as proof of inequality amongst inmates. Those who are rich or who have strong connections have the upper hand in this aspect. They even control the prices in these canteens to the detriment of those who can barely afford the products.
Fifth, it has been reported that an estimated 70% of the total prison population in France are Muslims. However, it has been noted that only a few IMAMs visit French prisons as compared to other countries which have lesser numbers of Muslim prisoners. If you want to survive prison in France, you must learn to choose the people with whom you associate. Associating with the wrong people inside these prisons can lead you to trouble and even death.
While religious inclination is not necessarily indicative of one's tendency to live a life of crime, it's a fact that a number of these Muslim prisoners are serving time for terrorism and majority of them are considered extremely dangerous. There are those who entered these prisons without real affinity for any groups, thus are often recruited to gangs or groups that oftentimes wage war against each other. To survive, you must learn to steer clear of these groups.
Last, it is best to exhibit good behavior throughout your stay as this might improve your records. Manifesting good behavior means that you should respect your fellow inmates as well as the prison officers. It also means that you abide with all the rules and should not try to draw undue attention to yourself. Live below everyone else's radar, if you don't want the wrong people to cast their eye on you, you would do well to live prison life quietly. Keep your opinions to yourself, especially about controversial issues. While you may not be able to change the penal system of French prisons, you can do a lot to ensure that you survive your ordeal behind bars.
Given that French prisons are considered among the worst places in the world, many prisoners find it immensely difficult to survive. In other words, the question "How to survive prison in France and how do their penal system work?" should be better rephrased into "How to survive prison in France and how can the French government improve their penal system?"