After an incarceration, it's crucial to have a little money in your pocket, a place to go so you can get your head straight and people that can help out such as friends and family members. For some people, it may be required to stay in touch with a parole officer (as part of their release condition) and maintaining a job for X amount of time. Once an ex-con, jobs are hard to acquire since on an application form you'll have to mention that you were an ex-convict and explain the reason of your incarceration. To make things worse, welfare in certain states can be problematic and even once acquired, how long can a few hundred bucks lasts?
So to be able to get a lucrative amount of money legally without going to jail, you need an education (just knowing how to read, write and count) and especially an understanding of the online marketing system. That's because making money from the internet does not require a criminal background check and going to an interview. Once you understand the system, have a little bit of motivation and a little bit of time to spare for your business, the amount of cash that can be made is almost limitless. All you need is a computer or laptop with some softwares, an internet connection and a good course to guide you.
The best part about making money from the internet is the vast amount of subjects available to write about. Now you may be thinking that you need to be an expert in a subject or have a college or university degree in a specific field to be able to write on what you know but that is just a common misconception. Or you may be saying you don't like to write or don't have enough time to write or creating videos, but you don't have to since all these tasks can be outsourced. Afterwards once you setup a website and gave it enough link juice, it will naturally begin raking for many keywords hence this will increase your traffic and potential conversions (Ca$h, Money, Cream, Chedda, Loot, Bands, Gwop, Racks, Fetti, Scrilla, Lettuce, Lucci, Luchini, Benjamins, Dead President$).
The most important part is that if you correctly set up a website before your incarceration and that website is not in a very competitive niche, it will earn money for you on autopilot during your time behind bars. So if you are serving a one year sentence, once you're free you may end up making a few hundreds or even thousands from your site. Now this is not 100% guaranteed since they are many outcomes that can affect your potential income such as Google's algorithm changes, the competitors of your niche, the proper keyword research and much more.
Now a lot of this information is scattered freely throughout the internet but I'm sure you don't have the time to research and read conflicting informations. So a good course that will help you understand the online marketing universe, how to build a website and drive traffic to it is Google Sniper. But this is not a "Get Rich Quick Scheme"! Keep on reading!
What is Google Sniper?
Google Sniper is a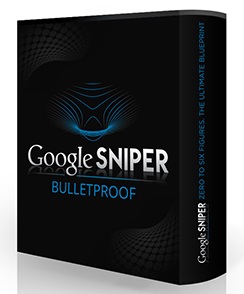 very popular internet marketing course created by George Brown. It teaches how to create many sniper sites in many different niches and get them ranked on the first page of Google. The basic course is very detailed and contains a 78 page PDF and seven tutorial videos (some nearly an hour) which provides outstanding teachings and values.
Video 1 (1 hour 12 minutes) will guide you on how to sign up to the different affiliate networks and how to pick a good product to promote.
Video 2 (48 minutes) will guide you on how to do a keyword research for your niche and how to pick low competition keywords.
Video 3 (43 minutes) will teach you how to set up your first website using WordPress. This include how to pick a good domain name (ex: www.yoursite.com), how to pick a good hosting provider, how to connect your host to your domain name, how to select the best themes, which are the best plugins for your site and much more.
Video 4 (16 minutes) with teach you the preselling aspects of your site. These includes incorporating videos, images, call to action buttons, site layouts and much more…
Video 5 (9 minutes) will teach you how to cloak you affiliate links and make them pretty to increase your conversion rates. This step is very important since it will stop others from stealing your commissions!
Video 6 (22 minutes) will walk you through the basic functionalities of WordPress such as how to publish a post, how to publish a page, how to upload an image, how to use the widgets section, how to create a menu and much more….
Video 7 (15 minutes) will teach you how to give link juice to your site so that it will rank on the first page of google.
Now this is only the basic package of the program and for 47$ USD the value that you get will easily pay off a million times over if you fallow the steps. Google sniper also come with many upsells which will include more advance techniques, email support, 1 on 1 consultation, lifetime updates, 2 monthly webinars and much more. It also come with a 60 day money back guarantee so if you find out that it's not for you, you can get a refund. That being said this is the closest you may ever get of becoming your own boss, have your own business, work your own hours and find financial freedom!
Click Here To Visit The Official Website And Access Google Sniper Right Now